Ultimate Guide:
Winter Fun in Detroit Lakes
When it comes to winter fun in Detroit lakes, we northern Minnesotans don't crumble with cold temperatures and a little wind chill. Rather, we embrace the snow and ice to engage in activities that can only be enjoyed in the winter months. And when you need a break from the elements, plenty of excitement exists indoors, too. Save this Ultimate Guide to Winter Fun in Detroit Lakes and plan your winter getaway: a sure cure for cabin fever!
---
Signature Winter Events:
Polar Fest and Poles 'N Holes Fishing Derby

Polar Fest, February 9-25, 2024 in Detroit Lakes is one of Minnesota's most fun winter festivals. This winter festival encompassing three weekends in February boasts a multitude of outdoor activities to indoor comfort food.

Celebrate the awesomeness of a winter night when the spectacular fireworks light up the skies. Plan a weekend getaway to see the free fireworks show at the City Beach on a Saturday evening during Polar Fest.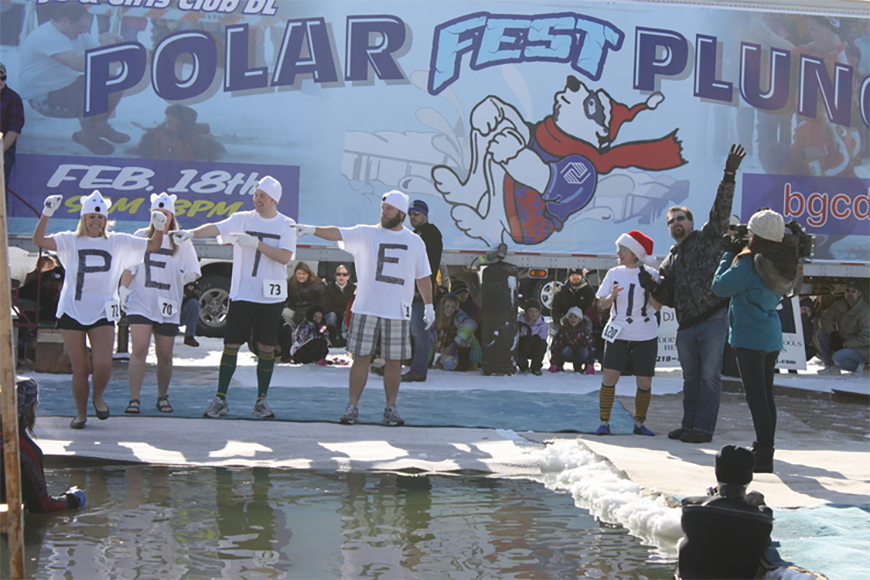 Several brave the cold Little Detroit Lakes waters during the Boys and Girls Club Polar Fest Plunge or cheer on the jumpers on Saturday, February 24 at 1 pm! Many sport wild themed costumes before taking the leap that benefits the non-profit club.
Polar Fest in Detroit Lakes includes all things for foodies: MinneSoda hot dish challenge, polar-riffic spaghetti dinner and home brew beer tasting. There's a rally of old-timer snowmobiles, ice tee golf on the lake, bonspiel and music!
For updates on Polar Fest activities, refer to the Polar Fest website.
Ice Fishing in Detroit Lakes
During the winter, ice fishing reigns as one of the most popular Minnesotan winter activities. And although some may fish alone and find peace and solitude whilst reeling in nice walleyes, ice fishing lends itself to friend and family bonding time. Pursue walleye, northern, bass or crappies.
Source: http://icefishingdetroitlakes.org/
To kick off the winter event Polar Fest, Detroit Lakes Breakfast Rotary hosts the annual Poles N Holes Fishing Derby Saturday, February 10, 2024. The notable fishing contest offers thousands of dollars in prizes and is fun for the whole family!
Check out Detroit Lakes lodging accommodations to start planning your ice fishing trip!
Detroit Mountain: The Best in Winter Outdoor Recreation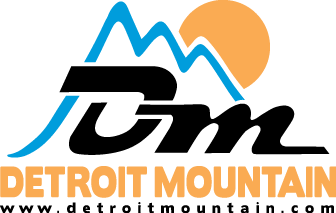 Skiing, Snowboarding, Fat-Tire Biking and Tubing at Detroit Mountain Recreation Area
Detroit Mountain Recreation Area reopened as a four-season recreational destination in 2014. Detroit Mountain features the Scheels Terrain Parks, one of the premier parks in the area with tricks, jumps, and rails; groomed cross-country ski trails and winter fat-biking trails; and the Landslide Tubing Park. With snow-making capabilities, the slopes open each November.
Follow Detroit Mountain on Twitter to get the most up-to-date trails report.
Detroit Mountain at a glance:
Two terrain parks with high-speed tow ropes
Total runs: 21
Two, triple overhead chairlifts
Large "Learn to Ski and Snowboard" area with two magic carpet lifts
Ski and snowboarding lessons
Seven kilometers of groomed skate and classic Nordic trails, with fun loop options to explore
Three miles of Groomed Winter Fat-Bike/Snowshoe Trails
Landslide Tubing Park complete with 275 tubes and up to 10 lanes of slippery fun
Additional snowshoeing on select trails
Ski, snowboard, snowshoe and fat bike rentals
Mountain Café
Notable Events: Check out the Detroit Mountain website for upcoming events!
---
Maplelag Resort: Known across the country for its Cross-Country Skiing
Known across the country for their cross-country ski trails, Maplelag Resort is a winter outdoor enthusiast's dream! Play outside as long as your heart desires with 70 km of trails for skiing, fat-tire biking and snowshoeing. Maplelag offers 60 km of groomed trails for skate and classic skiing. Fat-tire biking enthusiasts can bring their bikes to enjoy 15 km of trails. Feeling adventurous? Explore Maplelag's ungroomed snowy acres with your own snowshoes.
Other outdoor activities at Maplelag include:
Sledding
Ice Skating
Ice fishing (must bring your own equipment)
Get the latest trail reports at Maplelag Resort.
NOTE: A fire on October 10, 2022 burned the entire main lodge at Maplelag Resort. Although meals are not served, the trails are open for skiing. Lodging is available for overnight stays and pick up a memento at Maplelag Resort's new gift shop.
---
More Becker County
Cross-Country Ski Trails –
No State Ski Pass Required
The Mountain View Recreation Area
The Mountain View Recreation Area's 5 kilometers of trails flow through a scenic mature, mixed hardwood forest.
From rolling to steeply rolling terrain, the wide and regularly groomed trails are structured to accommodate all level of skiers, from beginners to the more experienced. Skiers can engage in classical and skate-style skiing and experience several different loops.
There's parking available for 10-15 vehicles along Tower Road.
Pickerel Lake Ski Trails
Enjoy a mix of narrow, single track trails and forest roads, which total 9.1 kilometers of ski trails. Ski through hardwood forests and by many small bodies of water where wildlife is often spotted.
These trails are groomed occasionally and there's parking available for 4-6 vehicles at the end of Sunset Road off County Road 25.
Pine Lake
Skiers will appreciate the 12.2 km, two-loop cross-country ski trail. For a short jaunt, the two-mile loop winds through a field, through the oak-maple forest, and along Tamarac Lake.
For a longer ski, the Pine Lake loop takes you around Pine Lake with nearly six miles of breath-taking scenery. The terrain on these trails stays mainly even with a few short hills along this trek.
Volunteers occasionally groom the trails and there's parking available for 6-8 vehicles along County Road 29.
Frazee trails
Known for its wildlife sanctuary with 11 miles of groomed cross-country ski trails that are open to the public, the Ike Fischer Farm serves as a great community recreation resource.
Head to the east side of the Fischer property to access the Otter Tail River water trail. Directions: take Highway 87 east out of Frazee to County Road 150 for about a mile. There you'll find a parking area.
Check the weekly grooming updates for cross country skiing and snowmobiling.
---
Snowmobiling
If you love to snowmobile, then more than 250 miles of groomed snowmobile trails should pique your interest! The trails are perfect for cruising over rolling hills or through beautiful scenic forests.
The Winter Wonderland Trails are the linked to neighboring trails in each direction. About 30 miles north of the trail, you'll discover a variety of trails winding through the White Earth State Forest. From there you can circle east around Itasca State Park. Choose to head south from Detroit Lakes and you'll launch into the Otter Country Trails to Maplewood State Park. Trails to the west connect to the Midnite Riders and to the Wolf Pack and Forest Riders trails to the east.
See the VisitDetroitLakes.com calendar for winter events such as snowmobile races, vintage snowmobile runs and swap meets in the area. Grab a free map at the Chamber office or throughout the region. Or, download the city map and Becker County map.
---
Ice Skating
Peoples Park in Detroit Lakes offers one ice rink and one ice skating rink during the winter months. The warming house is open scheduled hours in January and February with a limited number of skate sizes on loan for free. For more action on the ice, Kent Freeman Sports Arena, across from People's Park on Rossman Avenue, hosts hockey tournament action. During regular winter seasons, curling enthusiasts compete in bonspiels at the Curling Club on the northern edge of the city off Highway 59.
---
Stay Warm with Indoor Fun
When it's time to take a break from the elements, explore fun indoors in Detroit Lakes.
Historic Holmes Theatre
Source: Historic Holmes Theatre
The renovated 800+ seat performing arts theatre presents a variety of local, regional and national arts and entertainment events.
View all upcoming events at the Historic Holmes Theatre
Or walk to The Center of Detroit Lakes, connected to the Historic Holmes Theatre. There you'll find all the indoor fitness and aquatics facilities to get your winter workout and the kiddos can play in the area's largest indoor playland, The Backyard.
Becker County Museum
Source: Becker County Museum Facebook Page
Started in 1943 by the Becker County Historical Society, a new museum building was constructed and opened in 2022. Adjoining the Historic Holmes Theatre, the two businesses share a common lobby.
The new facility has a floor dedicated to learning through play in their Science Center. There are also historical displays, a research library and traveling exhibits.
Find updates on the Becker County Museum website.
Unique Shopping
Experience the true "Up North" shopping Detroit Lakes has to offer. Browse antique and candy stores and boutiques, grab yourself a delicious treat with a steaming hot cup of coffee, a bite to eat or spend the afternoon at the Washington Square Mall, which features retail stores, dining options and an opportunity to pamper yourself. Explore all shopping in Detroit Lakes by visiting the Detroit Lakes Chamber of Commerce Minnesota Retail & Shopping directory.
Craft Beer & Dine
Detroit Lakes offers a notable variety of local cuisine, as well as casual to fine foodie experiences. Treat yourself to craft beer made at the brew pub at Lakeside Tavern at West Lake Drive and recently opened Buck's Mill Brewery on Washington Avenue. Whatever you're craving, you won't be disappointed dining in Detroit Lakes. Explore the variety of bars, pubs, and restaurants.