Ultimate Guide to Summer:
Top 10 Outdoor Activities in Detroit Lakes
The sunny days of summer are here and it's the perfect time to get out of the house and explore Detroit Lakes. Whether it is a heart-pumping adventure you seek, more bonding time as a family or enjoying a delicious meal alfresco, there are a plethora of ways to find your space to enjoy the outdoors here.
Make plans for your summer getaway to Detroit Lakes now to take advantage of these top outdoor activities.
1. Connect With Nature
However, you love to experience the outdoors, whether it's with a scenic stroll or an adventurous hike, start at one of Detroit Lakes' parks and preserves. You have plenty of space as the area is part of the North Country National Scenic Trail, which runs from North Dakota to Vermont. On the serene shores of Muskrat Lake and Lake Sallie, Dunton Locks County Park has 53 acres to discover with hiking and biking trails, two fishing piers and two covered shelters with equipment you can use for a memorable summer barbecue.
Learn about the Detroit Lakes area's history, flora and fauna on educational displays as you explore swamps, marsh, woods, prairie and trout streams in the 117-acre Sucker Creek Preserve. Then, drive 25 minutes northeast of Detroit Lakes to Tamarac National Wildlife Refuge, an oasis of 43,000 acres. Look for the hundreds of species of birds that migrated here in the spring including the once-endangered Trumpeter Swan gracing many of the lakes through late fall. You may even get a glimpse of porcupines, fox, or the elusive gray wolf or black bear. For more highlights of the Detroit Lakes area, venture out to Buffalo River State Park, Maplewood State Park or Itasca State Park.
2. Shop Outdoors
Detroit Lakes has an array of unique shops on Washington Avenue in downtown.  On weekends from Memorial Day through Labor Day, you can search for treasures, such as antiques, jewelry, collectibles and décor, at Shady Hollow Flea Market. There is a grill and rotating food trucks on-site at the market, and those in the know say the kettle corn popcorn is a must! The summer kicks off when Lakeshirts Beach Shop across from the Detroit Lakes City Beach opens for the season. Here you'll find T-shirts, hoodies, surf-inspired casual wear, swim gear and groovy discounts at their famous outdoor tent sales.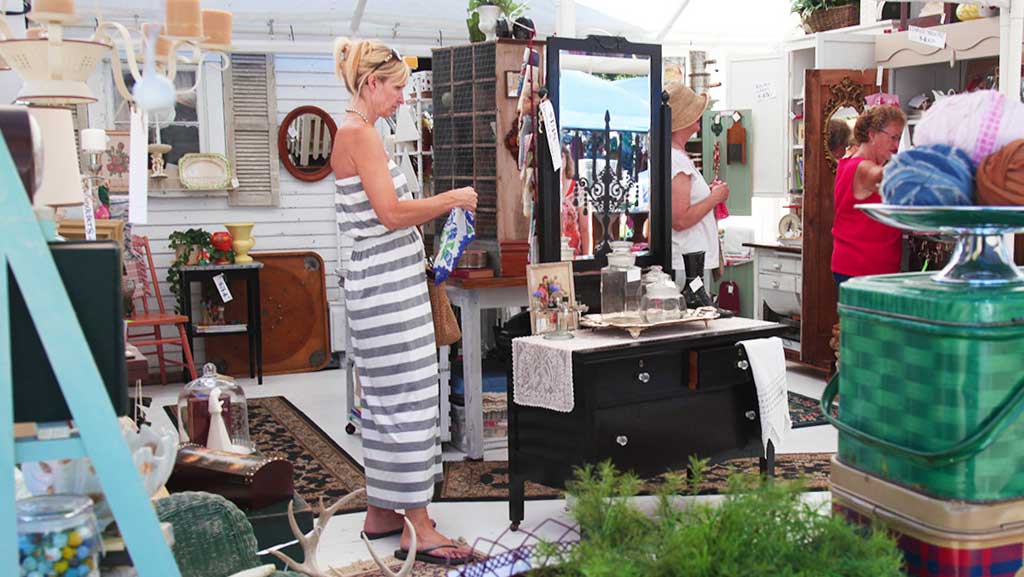 3. Scenic Dining and Sips
Meals are served with a view in Detroit Lakes, with many restaurants having outdoor patios and lakeside locations. If you want to get take-out or to-go and dine outside, that is available too. Lakeside Tavern and Zorbaz serve casual eats and plenty of beers on tap right at Detroit Lake, and you can get family-friendly comfort food at Hub 41 nearby. Catch a game at Bleachers Sports Bar and Grill, Pit 611 or Sunlite Bar & Grill. Enjoy fine dining at Detroit Lakes icon The Fireside. Sip wine while overlooking Rose Lake at Spanky's Stone Hearth.
Long Bridge Bar, Grill and Marina brings the flavors and laid-back feel of the islands to its waterfront spot, along with a marina to moor your boat. Step back in time along Lake Sallie at the historic restaurant Hotel Shoreham Bar, Bistro and Pizzeria built in 1910. Brygge Taps and Tastes has the vibe on hygge with an outdoor fireplace that provides a spot for cold beers, burgers and light bites. Located in downtown Detroit Lakes, Bucks Mill Brewing serves up locally sourced beers and non-alcoholic options including kombucha and house made root beer. Fuel up at local coffee shop LaBarista; try the locally roasted beans and freshly baked sweets at Roasted Pub and Eatery; or sip an espresso drink on the patio at Mi Cartagena Cafe, directly across from the City Beach at Little Detroit Lake.
4. Go Mountain Biking
With warmer temperatures, Detroit Lakes' ski slopes become the ultimate destination for mountain biking. Feel the rush as you speed down trails, across wooden ramps and catch air on elevated features at Detroit Mountain. The alpine skiing destination has a variety of trails and a skills park, and mountain bikes can be rented on-site. If you love to be surrounded by woods, bring your mountain bike to Maplelag Resort, north of Detroit Lakes. The family-owned and operated cross-country ski resort has miles of trails to explore and hosts the Laddies Loppet mountain bike races every Labor Day weekend. Need a new bike or accessory? Make a stop at DL Bike Shop on Washington Avenue in Detroit Lakes before your stellar biking adventure.
5. Go Fishing
With more than 400 lakes within 25 miles, Detroit Lakes has an incredible array of places to cast a line. You can fish off the pier at the City Beach on Detroit Lake, or rent a boat from J&K Marina and fish for walleye, bass, trout, perch and other panfish in the peaceful waters. Local fishing guides can take you to top spots to reel in your trophy catch. Return in the fall to pursue lunker muskies! The area hotels and lakeside resorts cater to fishing enthusiasts with kayaks and canoes, boat launches and docks. Check the weekly Detroit Lakes fishing report, so you'll know where the fish are biting when you visit.
6. Tube the Otter Tail River
Take a break from the summer heat with a leisurely innertube float down the Otter Tail River. The gentle current and beautiful scenery make for a relaxing two-hour ride. Keep an eye out for turtles, beavers and eagles! K & K Tubing has everything you need for a fun outing, including kid-sized tubes that have bottoms and backs, free cooler tubes and shuttle service to and from the river. Charlie's Tubing is next door, both located right off Highway 34, east of Detroit Lakes. Bring your favorite beverage (just no Styrofoam or glass containers) and share a lively afternoon with friends. Weekdays tend to be more family-friendly.
7. Tee Off
Looking to hit the links this summer? Detroit Lakes has seven golf courses that offer nine and 18 holes. Tee off at the Detroit Country Club, the golf club open to the public with two courses that are bordered by Lake Sallie and Lake Melissa. In August the Detroit Country Club hosts the Pine to Palm Amateur Golf Tournament. If putting is more your style of play, Forest Hills Resort has mini-golf in addition to its 18-hole championship course.
8. Try Scuba Diving
Dive into the tranquil waters of the Detroit Lakes area with a scuba diving adventure. You'll find world-class freshwater diving in hundreds of clean, clear lakes that have wonderful treasures to discover. Join Tri-State Diving on one of its weekend dives for the chance to see ancient bison bones as well as logging and ice harvesting tools, some dating to the late 1800s.
9. Fun in City Parks
Detroit Lakes' parks offer plenty of ways to take advantage of the glorious summer weather. If you like long walks on the beach, come to the City Beach, a mile-long stretch of sandy beach along Little Detroit Lake. Here you can go swimming, fishing and boating, with boat rentals available at J&K Marina. The beach is adjacent to City Park, which has 25 acres of green space and kids' playgrounds. Play Frisbee golf on the park's course, or practice your serve on the tennis court. Have a picnic at one of the covered shelters, and bring a blanket on Tuesday evenings for live music at the Bandshell.
In Peoples Park, challenge the family in pickleball, volleyball or basketball. The park also has a playground, skateboard park and a picnic shelter with a kitchenette. Shop for fresh produce, baked goods, prepared foods and locally made crafts at the Lakes Area Farmers Market, held at Peoples Park every Tuesday and Saturday from 10-1. Don't forget to bring along your pup when you visit Detroit Lakes! The city's Dog Park on the northeast side of town has two fenced-in areas for dogs to play.
10. Outdoor Events
All summer long, Detroit Lakes is packed with outdoor events. Check the website Calendar of Events for updates on favorites scheduled this summer.

When you visit, join in the fun during Bash on the Beach, Parade of the Northwest, WE Fest, Pine to Palm Golf Tourney, Young Life Triathlon, Ojibwe Forests Rally and more.
Among the many highlights are Street Faire at the Lakes, which brings art, music and kids' activities to six blocks of downtown Detroit Lakes, and Art in the Park, where you can browse over 100 booths while listening to live music and feasting on festival fare. The annual Water Carnival is a week of summer fun that includes the region's largest parade, demo derby, Bash on the Beach with your favorite bands and more. There are also triathlons, music festivals and craft beer tours. Click here to see all the summer events—it's time to get back to doing what you love.