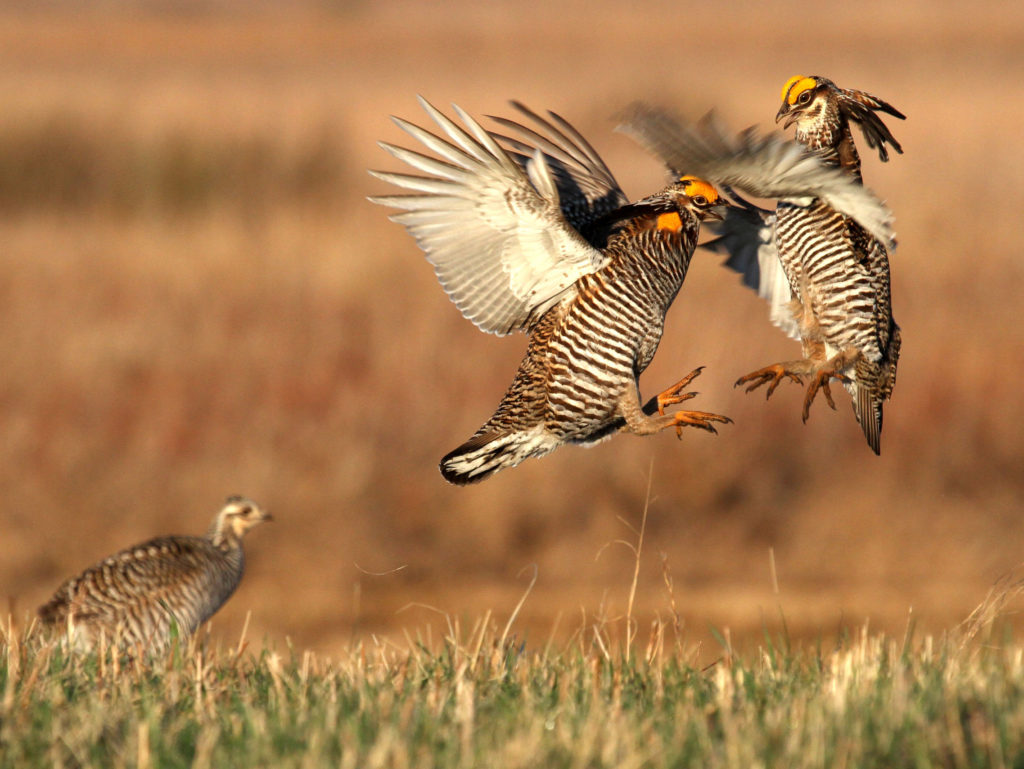 Detroit Lakes Festival Of Birds
Detroit Lakes is nestled in the heart of a transition zone between tall grass prairie, northern hardwood and conifer forest ecosystems. That means there are lots of kinds of birds! Which, in turn, means a lot of serious birders flocking here each spring for the annual Festival of Birds.
The 26th annual Festival of Birds is scheduled for May 18-20, 2023. Watch for detailed updates and registration in early 2023.
Thursday, May 18, 4:30 pm-6:30 pm: The festival kicks off with an hors d' oeuvres social at Hub 41's upper level across from the Detroit Lakes City Beach. Please join us at Hub 41 for food and bird trivia!

Friday, May 19, 5:30 am-Noon: Field trip to Tamarac National Wildlife Refuge OR Hamden Slough National Wildlife Refuge. Arrive at site by 5:30 am. Registrants will drive to refuge location with their vehicle. Please bring your own beverage/snacks. Field trips will take place if rainfall is light or delay the start at site until rainfall is lighter.
Tamarac National Wildlife Refuge: Meet at the Refuge Visitor Center Parking Lot to carpool to sites from there.
The pristine woodlands of Tamarac Refuge is host to 25 species of warblers including the Golden-winged Warbler. Nearly 43,000 acres make up this premier bird refuge of Northwestern Minnesota. We'll guide you through the mosaic of habitats including pine and hardwood forests, lakes, rivers, marshes and brushy grasslands. You'll trek into key sections of the refuge for the best views including lake edges where warblers congregate. Sturdy boots or knee high rubber boots are recommended for the short hikes through grassy trails. The refuge has a bird list of 258 species, so there will be plenty of feathered friends to see here. Birds we'll be looking for: American woodcock, scarlet tanager, rose-breasted grosbeak, vireos, 25 species of warblers, solitary sandpiper, trumpeter swans, ruffed grouse, nesting bald eagles and common loons.
The Friends of Tamarac will have lunch available at the refuge's Tamarac Discovery Center for $10 beginning at 11:30. You can grab and go or eat in.
Hamden Slough National Wildlife Refuge: Meet at the Hamden Slough Refuge Education Building Parking Lot at 5:30 am.
Come experience the dynamic prairie-wetland-woodland habitats of Hamden Slough NWR! Birders will split into two groups and carpool/caravan to birding spots. All birders will wake up to the haunting sounds of the greater prairie chickens booming on the Refuge lek. From there, attendees will visit grassland, wetland, and oak savanna sites managed using grazing, haying, fire and water level manipulation. Birds we'll be looking for: Greater Prairie Chickens, Bobolinks, Western Meadowlarks, Sandhill Cranes, Clay Colored and Savanna Sparrows, Eastern Kingbirds, Marbled Godwits, Greater Yellowlegs, Wilson's Phalaropes, Pectoral and Solitary Sandpipers and Least Sandpipers and a variety of waterfowl and other shorebirds.

Saturday, May 20, 5:30 am-Noon: Field trip to Maplewood State Park OR Agassiz Dunes. Trips will be by coach bus (with restroom) by meeting at M State College's western parking lot, 900 East Hwy 34, Detroit Lakes by 5:30 am sharp.
Upon return, we invite you to a lunch at the college, exhibitors and silent auction until 3:30 pm.
Maplewood State Park: Established in 1963, Maplewood State Park's 9,250 acres is located between the state's eastern broadleaf forests and western prairies. The park is interspersed with numerous small lakes and marshes. The tree-covered hills offer striking vistas of small, clear lakes and colorful prairies. Hiking opportunities abound with over 20 miles of trails, some of which will be a few miles of walking on the well-established trails as well as extended hikes on rustic trails. On this trip leaders will highlight how to identify warblers by ear. The spring woodland wildflowers are especially amazing in the park this time of year. There are over 150 bird species known to be breeding in the park. Birds we'll be looking for: Great Egret, Green Heron, Red-shouldered Hawk, woodpeckers, vireos, Indigo Bunting and a variety of warblers.
Friday, May 19, 5:00 pm-7:00 pm: Evening meal followed by Carrol Henderson's new presentation, "Pollinators in Paradise: Butterflies and Moths of the American Tropics."
Carrol and his wife Ethelle have been leading wildlife tours to Latin American since 1987. They have explored countries from Guatemala, Cuba, and Costa Rica south to the southern tip of South America. While much effort has been focused on birds, Carrol has taken thousands of tropical butterfly and moth photos. Last year he consolidated his photo collection into his new presentation.
The program includes stunning images of butterflies like the iridescent blue morpho and distinctive "owl butterfly". Featured butterflies in the American tropics include cracker butterflies, daggerwings, skippers, swallowtails and silk moths. He has incorporated stories of the butterflies including their ecology, species diversity, camouflage, host and nectar plants, mimicry complexes, warning colors and "chemical warfare" defenses against bird predation.
Carrol Henderson was the assistant manager for the Lac qui Parle Wildlife Refuge from 1974-1976 and the DNR Nongame Wildlife Program supervisor from 1977-2018. During that 44-year career he worked on projects for trumpeter swans, peregrine falcons, river otters, common terns, bald eagles and many other wildlife species. He is the author of 13 books. Carrol retired in 2018. Since then he has helped promote "Get the Lead Out" of ammunition and fishing tackle so it does not poison loons, bald eagles and expose deer hunters and their families to lead bullet fragments in their venison. He serves as conservation chair for the Minnesota Ornithologists' Union, is on the Boards of The National Loon Center and The Trumpeter Swan Society.
Saturday, May 20, Noon-3:30 pm: Visit exhibitor booths and the silent auction to snag some birdy bargains. Located in the lobby area outside the Conference Center of M State College's western campus.
Admission: Free.

Saturday, May 20, 4:45 pm-7:00 pm: Join your fellow birders at M State, 900 Hwy 34 East in Detroit Lakes to visit about bird sightings. Enjoy your evening buffet followed by Marshall Johnson's presentation "Mission 2050: The global effort to preserve birds of the Americas."
Marshall Johnson serves as Audubon's Chief Conservation Officer, overseeing its conservation strategies of Water, Coasts, Climate and Bird-friendly Communities, as well as its Science, Audubon Americas, Field and Network teams. Marshall leads strategic direction for hemispheric-wide conservation work at Audubon to address the unprecedented climate change and biodiversity crises facing birds.
He previously served as Vice President for Audubon Dakotas where he raised more than $50M, spearheading the development and launch of the Northern Great Plains Grasslands project, which has conserved nearly 500,000 acres across the Dakotas, enrolling over 300 farmers, ranchers and communities. Marshall also served as Vice President of Audubon's Conservation Ranching (ACR) Initiative, now America's largest regenerative, bird-friendly land certification, spanning more than 3.5M acres across 16 states. Marshall led the creation of the Urban Woods & Prairies Initiative which has created over 36 new nature parks across North Dakota, creating safe passage for migratory birds, while returning over 2,000 acres back to nature and increasing recreational access and ecosystem services across 5 communities.
Marshall serves on the boards of the U.S Prairie Pothole Joint Venture and the North Dakota Natural Resources Trust. Marshall resides in Fargo, ND.
2022 Field Trip Checklists:
Friday, May 20, 2022 Hamden Slough Refuge checklist
Friday, May 20, 2022 Tamarac Refuge checklist
Saturday, May 21, 2022 Itasca Park/La Salle checklist
Saturday, May 21, 2022 Rush WMA checklist
Festival attendees throughout the years have learned much about birds, wildlife and the environment through presenters such as John Fitzpatrick, John Marzluff, Joel Greenberg, Melissa Groo, Rosalind Renfrew, Sue Leaf, Drew Wheelan, Charlie Walcott, Richard Crossley, Scott Wiedensaul, David Sibley, Bill Thompson III, Laura Erickson, Don and Lillian Stokes, Kenn Kaufmann, Dr. Paul Johnsgard, Stan Tekiela, Dr. James Grier, Sharon Stiteler, Al Batt, Jeff Gordon, Joe Hautman, Jeb Barzen, Ernesto Reyes, Noah Strycker, Lyanda Haupt, Kevin Karlson, Randy Kolka and Mike Havlik.
If you would like to receive future Festival of Birds email updates, please contact us at dlchamber@VisitDetroitLakes.com or call 218-847-9202. For updates, "like" us on facebook. Enjoy our small town hospitality while in Detroit Lakes, including several lodging options.
In recent years, birders have checked these species off their list: Blue-Gray Gnatcatcher, Gray-cheeked Thrush, Rough-legged Hawk, LeConte's and Nelson's Sharp-tailed Sparrows, Golden-winged and Northern Parula Warblers, Alder Flycatcher, Greater Prairie Chicken and Black-backed Woodpecker.
Any time of year, we welcome you to check out several sites along the Pine to Prairie International Birding Trail that are near Detroit Lakes. For more birding opportunities in Minnesota, see the MOU website.
Everywhere you go in Detroit Lakes' bird paradise, you're guaranteed to see birds to check off your bird list. We welcome you to Detroit Lakes, Minnesota. Happy birding!