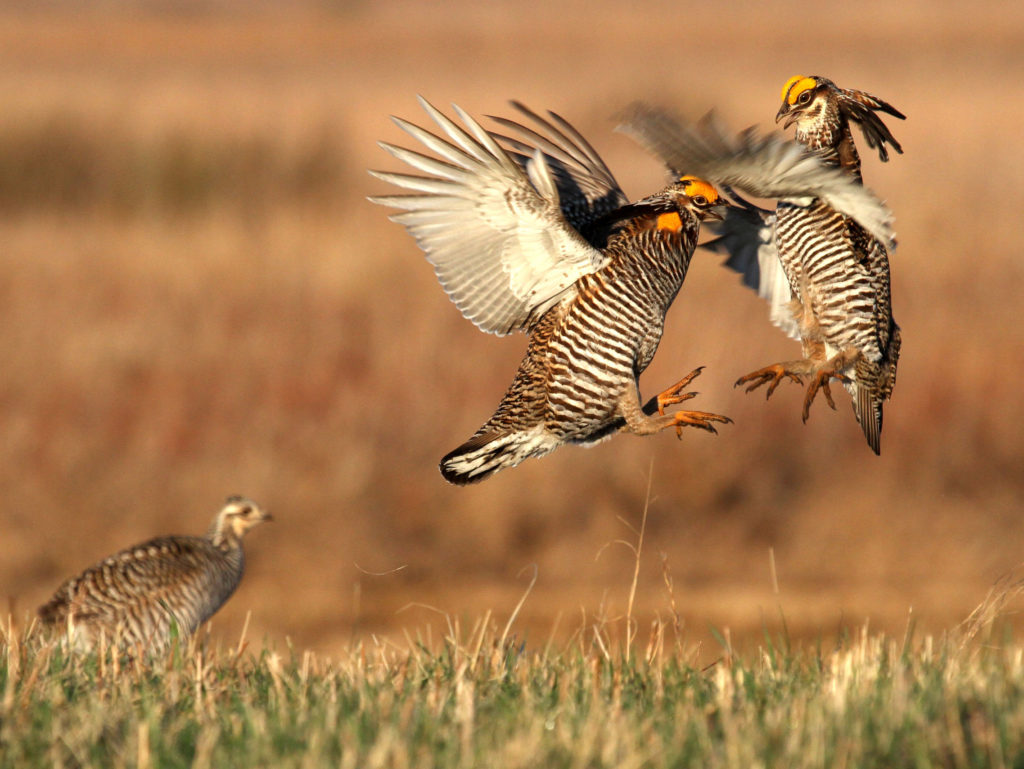 Festival Of Birds in Detroit Lakes Minnesota
Detroit Lakes is nestled in the heart of a transition zone between tall grass prairie, northern hardwood and conifer forest ecosystems. That means there are lots of kinds of birds! Which, in turn, means a lot of serious birders flocking here each spring for the annual Festival of Birds.
The 23rd annual Festival of Birds will be held May 20-22, 2021. Zoom into virtual sessions and get those binocs ready for a couple mornings in the field!
Registration is now closed.

Thursday, May 20, 8:00 am-9:00 am: Join our virtual presentation by Randy Kolka, Project Leader and Research Soil Scientist at the SPRUCE Climate Change Experiment. In the middle of the U.S. Forest Service's Marcell Experimental Forest north of Grand Rapids MN, is a one-of-a-kind science experiment tucked away in a true bog. Scientists from around the world are conducting research in ten temperature controlled chambers. Learn what the responses to warming and increased CO2 concentration has on the atmosphere and climate. How does this affect trees and vegetation, which in turn will affect birds and wildlife? Presentation proudly brought to you by Prairie Woods Chapter of Izaak Walton League.
9:30 am-11:00 am: Tackle your Warbler identification challenges with Kevin T. Karlson's virtual workshop. Each species presented in photos with plumage comparisons of breeding male/female, nonbreeding and immature. Similar species appear together for comparison of differences. Some quiz photos at the end will test your power of retention. Kevin T. Karlson is an accomplished birder, professional tour leader, wildlife photographer/instructor and author of a dozen books, including the next release, Bird Families of North America with Pete Dunne.

5:00 pm-6:00 pm: Naturalist Mike Havlik leads a fun virtual program that will provide you with field marks to help identify different hawk species in flight. Participants will make their field guide as Mike guides you through each hawk's unique behavior and patterns. This presentation brought to you by Friends of Tamarac.
Friday and Saturday mornings, May 21/22: Birding in the field. Two separate locations to choose from each morning.
Friday: Tamarac National Wildlife Refuge OR Felton Prairie
Saturday: Hamden Slough National Wildlife Refuge OR Felton Prairie
A total of 30 registrants per field trip will each drive their vehicle to meet at a specified location (family or friends may carpool). Once at the specified meeting location for each field trip, the group will divide into smaller groups with leaders who will locate key species. Participants will socially-distance bird the prairie, wetlands and/or woodlands. When not able to social distance, attendees must wear masks on federal and other lands.
Friday, May 21, 6:30 am-11:30 am: Choose a field trip to Tamarac National Wildlife Refuge OR Felton Prairie.
Tamarac National Wildlife Refuge is host to 25 species of warblers in their pristine woodlands including: Northern Parula, Blackburnian, Cape May and Golden-winged. Local guides will direct you to key habitat hotspots in pine and hardwood forests, lakes, rivers, marshes and brushy grasslands. Bring sturdy boots or knee-high rubber boots for short hikes through wet grassy/brushy terrain. This 43,000 acre refuge has a bird list of 258 species. Birds we'll be looking for: Scarlet Tanager, Rose-breasted Grosbeak, Solitary Sandpiper, Trumpeter Swans, Ruffed Grouse, 25 species of warblers including Golden-winged, nesting Bald Eagles and Common Loons.
Felton Prairie – After a long pause due to the pandemic, we're going birding! After arriving at our designated location, we'll break into two groups to bird specific areas, then switch. Experienced leaders who have birded these sites for several years will assist each group in landing life birds. The tour traverses the historic Lake Agassiz beach ridge from Felton Prairie in Clay county and north to the Fertile area, where many large blocks of grassland habitat have recently been protected in perpetuity. Felton Prairie serves as an island for endangered and threatened bird species and is a jewel of Important Birding Areas in Minnesota. Felton is known for its dry, short prairie intermixed with shallow wetlands and prairie streams. The tour continues on the newly acquired 960 acre Cupido WMA Complex comprised of a mix of sandy interbeach lobes with large areas of remnant wet prairies. Walking this site, we'll look for Greater Prairie Chickens and Marbled Godwits. Next on our tour is the recently formed and protected Prairie Dunes WMA, a large 640 acre tract with more than 52 recently restored shallow wetland basins, which attracts migrating birds. One of last dry prairies in Minnesota is included on this field trip. The strangely unique dry Prairie Smoke Dunes SNA is a mix of dry shrub oaks and dune sands, where we look for Vesper Sparrows. The combination of open prairie, river woodland and open marshes is expected to bring our bird list to 100. Birds we'll be looking for: Greater Prairie Chickens, Western and Eastern Kingbirds, Orchard Orioles, Upland Sandpipers, Chestnut-collared Longspurs, Loggerhead Shrikes, Black-billed Magpies, Western Meadowlarks, Brewers Blackbirds, Sandhill Cranes, a myriad of migrating warblers, Marbled Godwits, Greater Yellowlegs and many shorebirds and waterfowl. Field trips to Felton Prairie proudly sponsored by Pine to Prairie Pheasants Forever.
Saturday, May 22, 6:30 am-11:30 am: Choose a field trip to Hamden Slough National Wildlife Refuge OR Felton Prairie (see description above)
Hamden Slough National Wildlife Refuge, a designated Important Bird Area by Minnesota Audubon, boasts restored tallgrass prairie and wetlands that attract a plethora of bird species. Guides will lead you to a Greater Prairie Chicken lek, to be captivated by the mating antics of the males vying for females, while nearby Bobolinks and a variety of prairie sparrows perch on grasses. The marshy environs of Bisson Lake offer looks at waterfowl, shorebirds, Yellow-headed Blackbirds, rails and bitterns. The changing landscape of the refuge brings the opportunity for a variety of marsh and water birds at beautiful wetlands and a small woodland acts as a migration trap for warblers and other songbirds. Birds we'll be looking for: Greater Prairie Chickens, LeConte's Sparrows, American Bitterns, Marbled Godwits and Sandhill Cranes.
Felton Prairie – See description above under Friday field trips.
Friday, May 21, 5:30 pm-6:30 pm: Author, accomplished birder and wildlife photographer/instructor Kevin T. Karlson virtually presents a photographic celebration of Hawks, Eagles, Falcons and Vultures of North America. Based on content in the book Birds of Prey by Pete Dunne and Kevin Karlson and featuring some of the most spectacular raptor images by 19 of the top North American photographers. This presentation brought to you by Friends of the Detroit Lakes Wetland Management District.
Saturday, May 22, 5:00 pm-6:00 pm: After a year-plus of pandemic inactivity, we all are due for a huge belly laugh! Al Batt is sure to virtually please. Humorist Al Batt unravels a story peppered with comical situations we can all relate to. From Hartland MN near the Iowa border, Batt writes a number of popular cartoon strips, columns for newspapers and magazines, is author of A Life Gone to the Birds, and speaks about nature on radio shows. He has received several awards for his lifetime contributions to birding. Al Batt's presentation proudly brought to you by Minnesota Prairie Chicken Society.
REGISTRATION INFORMATION
Each Zoom presentation is open to 90 registrants. Field trips are limited to 30 participants per trip.
You must provide an email address to receive a link to the Zoom presentations and, for field trips, details of where to meet via driving your vehicle.
If you need to cancel your registration, please call the Detroit Lakes Chamber office weekdays 9 am-5 pm (central time) at 218-847-9202. You may leave a message after hours. Or, email DLChamber@VisitDetroitLakes.com, so that someone may fill your spot.
Participants must agree to the liability waiver on the registration form. Fill out the registration form and mail with check for $25 to address on form or email completed form to DLChamber@VisitDetroitLakes.com and call 218-847-9202 for $25 payment by credit card. You are not able to register online with a credit card. Refunds will not be given.
Registration is now closed.
Making it a weekend or week of birding? Detroit Lakes offers more than 400 rooms at city lodging properties. Plus more at area resorts/campgrounds.
Check with festival sponsor AmericInn by Wyndham for a special birding room rate.
A total of 165 species were recorded during the 2019 festival. North Ottawa – 108 species, Hamden Slough/Tamarac National Wildlife Refuges – 104. Windy, rainy weather slowed the count at Agassiz Refuge with 97 species (including Prothonotary Warbler), and Blue Stem Prairie/Buffalo River State Park – 79 species.
Festival attendees throughout the years have learned much about birds, wildlife and the environment through presenters such as John Fitzpatrick, John Marzluff, Joel Greenberg, Melissa Groo, Rosalind Renfrew, Sue Leaf, Drew Wheelan, Charlie Walcott, Richard Crossley, Scott Wiedensaul, David Sibley, Bill Thompson III, Laura Erickson, Don and Lillian Stokes, Kenn Kaufmann, Dr. Paul Johnsgard, Stan Tekiela, Dr. James Grier, Sharon Stiteler, Al Batt, Jeff Gordon, Joe Hautman, Jeb Barzen, Ernesto Reyes, Noah Strycker and Lyanda Haupt.
If you would like to receive future Festival of Birds programs and are not on the current mailing list, please contact us at dlchamber@VisitDetroitLakes.com or call 218-847-9202. For updates, "like" us on facebook. Enjoy our small town hospitality while in Detroit Lakes, including several lodging options.
In recent years, birders have checked these species off their list: Blue-Gray Gnatcatcher, Gray-cheeked Thrush, Rough-legged Hawk, Chestnut-collared Longspur, LeConte's and Nelson's Sharp-tailed Sparrows, Rock Wren, Golden-winged and Northern Parula Warblers, Alder Flycatcher and Black-backed Woodpecker.
Any time of year, we welcome you to check out several sites along the Pine to Prairie International Birding Trail that are near Detroit Lakes. For more birding opportunities in Minnesota, see the MOU website.
Everywhere you go in Detroit Lakes' bird paradise, you're guaranteed to see birds to check off your bird list. We welcome you to Detroit Lakes, Minnesota. Happy birding!