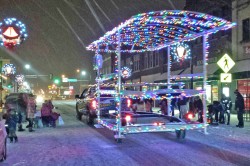 Light Up the Lakes in Detroit Lakes, Minnesota
The holiday season is a special time for you and your family to come to Detroit Lakes! Enjoy the magic of Christmas through the sights and sounds of festive events and activities in November and December in Detroit Lakes.
Several concerts at the Historic Holmes Theatre will light the spirit of Christmas in your heart. Looking for that unique gift? Craft days for children and adults at the Washington Square Mall and Becker County Museum will provide the opportunity for you to make it and take it.
Are you ready for floats decked out in twinkling lights amid the snowy landscape of downtown Detroit Lakes? The Grand Parade of Lights is Monday, December 2, 2019 at 5:30 pm along Washington Avenue. The parade begins at the Library and heads north along Washington Avenue to the Mall.
The Canadian Pacific Holiday Trainreturns to Detroit Lakes at 2:30 pm on Friday, December 13 at the Holmes and State Streets railroad crossings to help fill the food pantry shelves for the holidays. Decked with festive lights and a live band rockin' your Christmas favorites, it's free entertainment for your whole family. Watch for Santa, too!
There are many more fun events in Detroit Lakes to bring the biggest smiles for the holidays: free kids movies, open houses, shopping specials, concerts and more! See the November and December event schedules to plan your visits to Detroit Lakes over the Christmas holiday season.
You're invited to join the Light up the Lakes events in Detroit Lakes and make your holiday season a festive one!